Free Cambridge Judge MBA Essay Samples
ARINGO consultants are the top in the world!
The Judge Business School, established in 1990, is part of Cambridge University.
The following MBA essays were written by ARINGO MBA candidates who got accepted to the Cambridge University's Judge Business School MBA program over the past few years. Read these free Judge MBA Essay Examples to get a sense of what they are looking for at the Judge Business School MBA Program. Contact ARINGO MBA Admissions for help with your Judge MBA essays!
To read more about Judge Business School visit the Judge MBA page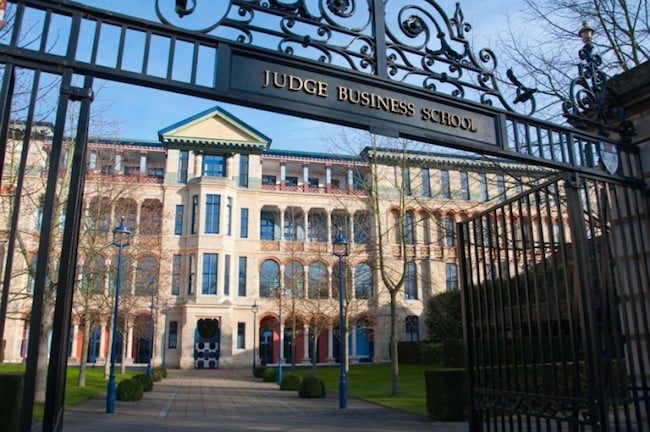 A few months after I joined _______, I was asked by the Executive Director, head of my team, to create a presentation about customer experience to be presented to a marketing conference audience comprised of CEOs of the leading companies in my country. I was new to the team, and this was my first time working directly with the ED. As I saw this as my opportunity to shine, I didn't feel comfortable asking too many questions and got straight to work. I invested over 50 hours in putting this presentation together. To my embarrassment, just two days before the conference, after sending a draft to the ED, I realized that while I prepared the slides in English it should have been in Hebrew.
The ED had to clear her calendar, and we spent the next two days working together around the clock translating and adjusting the design. The final presentation was good, but not perfect. I felt I let my ED down.
From this incident, I learned the importance of a proper brief, asking the right questions, matching expectations and soliciting feedback throughout the process. These lessons made me a better consultant and a better supervisor and team player.
While a Product Manager at _____, I began planning to launch a new hair-care product, which I forecast would become the biggest growth engine in the hair care category in my country.
After three months, we were ready, on time, to launch in May. This was crucial, as our major competitor was planning to launch a similar product in July. Then, mid-April, I learned that only half of the volume we had ordered would be ready in time. My manager suggested postponing, but with the competition breathing down our necks, I convinced him we must launch on schedule.
The product's success was beyond our imaginations. After 20 days we ran out, with no new stock expected for an entire month. Our distributors and clients lost confidence; the end-consumers felt deceived to have been offered a product and then told it was unavailable. It was an enormous failure.
However, I learned the importance of listening carefully to warnings, and that however much I might want something, I must do thorough due diligence before acting, and know when to stop, re-evaluate and start again – lessons that have since helped me succeed in other projects.
I was assigned as a consultant to a project team looking at reducing insurance claim cycle time. The team was comprised of an additional consultant who together we had to review the analysis done by an analyst, draw conclusions and prepare the presentation with our proposed solution for the project manager to deliver.
The analyst was relatively young. Although an experienced consultant already trained him on a previous project, his lack of experience showed and some of his deliverables fell short of expectations.
I offered to re-distribute the work. While the second consultant and the PM would focus on the proposed solution and the presentation, I would mentor the analyst and focus on analyzing existing processes. The team agreed, knowing that we would have to put extra time in order to save the project.
I reviewed with the analyst the required deliverables and we performed the analysis together while ensuring he understands the requirements for future engagements.
Eventually, the client accepted our recommendations and the insurance claim cycle time improved by 15% as anticipated. It was extremely satisfying to see the benefit of real team work. I learned the importance of clear guidance, mutual support, and flexibility in task assignment.
I'd like to share with the Admissions Committee a bit of my background, which explains my passion for the family business. It also explains my choice of recommender.
My father is of Kurdish origin and my mother is Turkish. In 1995, when I was three years old, we were forced to immigrate to London to escape the systematic persecution and oppression of the Kurdish minority in Turkey.
Arriving in London, we knew four words of English between the three of us. We had no money, no foundation and no support system. We would stay with distant relatives until they were unable or unwilling to have us. Never one to let hardships get in the way, my father did everything he could to build a life for us. Starting off with a fruit cart in the local market, over the last two decades he built an empire, now totaling over £100m in revenue.
Throughout my childhood, my father encouraged me to work for our firms, during weekends and vacations. Over the years I had a 360 degree view of our businesses; from sweeping floors and driving forklifts, to making sales and purchases. I am incredibly proud of what he managed to do, and it will be an honour to step into his shoes and continue what he started.
On a final note, as my supervisor over the last five years has always been my father, I have chosen ______ as my recommender. ______ is the Wholesale Business Development Manager at Today's Group, of which Holland Bazaar is a member. We have worked together intensively over the last few years, and he can attest, I believe, to my managerial, interpersonal and business skills.
After two years of working at my family business, I understood how much time and money was being spent on maintaining and repairing the company's vehicles and equipment. Determined to put an end to the waste, I approached my father, the company Chairman, and proposed that we build our own garage.
As Project Manager, I coordinated with a structural engineer, site foreman, mechanic, and our construction company's head of operations. Our goal was to design and construct a garage that would make most efficient use of available space and resources.
Over the next five months the project rolled out, and as unforeseen obstacles arose, they demanded close teamwork. Working through disagreements taught me the importance of detaching ideas from ego. I found that there is no shame in admitting a mistake and moving on to find the best possible solution. I also learned how to alert people to the flaws in their plans in an objective manner that enables them to listen, as well as the importance of being assertive when one is positive about the right course of action.
Since it opened, the garage has paid for itself, and will save us an estimated £120k in annual expenses.
My most spectacular professional failure happened as a client-side project manager in a billion-pound construction project. I was leader of the complex façade and roof works, the largest in Europe at the time of procurement. I was clear on what my role and responsibilities were and technically competent for that level of responsibility; however, I adopted the wrong behaviours with the contractor and the design teams. On the one hand, when I understood that the experienced contractors were not pleased at having a very young client supervising their work, I became more defensive and stricter than I normally am, instead of remaining open and making an effort to overcome that hurdle, creating further tension. On the other hand, given my design knowledge, I became deeply involved with the technical issues that the design team was facing. Likewise, I should have defined clear boundaries and ensured that they were being proactive in finding solutions instead. I was fortunately able to realise both errors, which did not have significant consequences to the project, and gradually balance my behaviour between the two teams. I learned however how important it is to carefully consider in advance which behaviour to adopt in each situation.