Free Tuck MBA Essay Samples
ARINGO consultants are the top in the world!
The Tuck School of Business, founded in 1900, was the first US school to offer a Masters of Business Administration.
The following MBA essays were written by ARINGO MBA candidates who got accepted to Dartmouth College's Tuck School of Business MBA program over the past few years. Read these free Tuck MBA Essay Examples to get a sense of what they are looking for at the Tuck MBA Program. Contact ARINGO MBA Admissions for help with your Tuck MBA essays!
To read more about Dartmouth College's Tuck School of Business visit the Tuck MBA page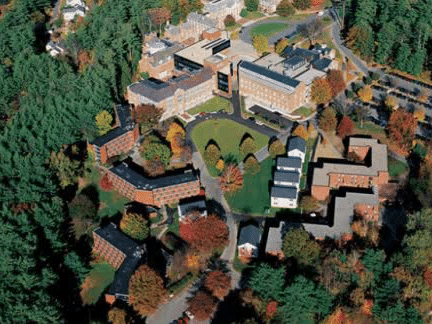 After two years as manager of the tablet production department at my pharmaceutical company, I saw myself as a good candidate for promotion. I had initiated many well-appreciated projects inside my department and helped it improve. I scheduled a conversation with the plant manager, the HR manager and the plant production manager, my current boss to discuss my future at my company.
I started with my most important achievements: my department's record of producing 9 billion tablets in one year; the attrition rate that decreased by more than 70%; the challenges I dealt with while the department grow 50% in less than a year; the new recruitment procedure I initiated; the OEE efficiency and Setup Time Reduction projects I am managing. I was hoping to be given an indication for a raise.
The plant manager listened to what I had to say. Her answers though, were not what I expected.
The manager told me that despite my achievements, I had much to learn before being promoted to a senior management position. She told me the pharmaceutical industry knowledge she demands from her managers. She also mentioned my need to take on more cross-organizational projects in order to have a broader vision of my company. She praised my achievements but criticized my lack of pharmaceutical knowledge. Finally, she mentioned that I lacked exposure to a variety of management styles. Since I had only one manager during my 2 years as a department manager, I needed more exposure to other managerial styles.
At first, these criticisms frustrated me. I didn't expect to be promoted immediately but was seeking confirmation of an upcoming promotion. A few minutes after the discussion I consulted my manager. He told me not to be disappointed because the management believes I am made from the right stuff to become a senior manager. He backed up the manager's criticisms and said that I had to prove to management I was ready to be promoted.
The next day I started acting on these points. I scheduled weekly conversations with the plant QA manager to learn more about the pharmaceutical world. A week later I asked to lead a cross-organizational quality project. I was also selected to manage a six-member team, all of them colleagues, in a second cross-organizational operational project.
During my conversations with my boss, he advised me to complete an MBA, further confirming my decision to do so. He felt an MBA would help complete my knowledge and skills and prepare me to become a marketing manager.
My manager's criticism taught me a lot about what is expected from me. I realized that success in a certain field was not sufficient for me to become a high-level manager. I realized that now, I would have to take the next step and show that I can manage in different environments, and lead cross-organizational projects in new fields. I also confirmed that this critical point in my career was the perfect one with which to supplement the knowledge and skills of an MBA together with my experience as a department manager and the knowledge I acquired in the pharmaceutical field, to help me achieve my goals.
My long-term career goal is to become Senior Vice President and Head of Global Information Security Group in a major Information Security corporation such as $25 billion Cisco, $5 billion CheckPoint, or $5 billion Netscreen. I plan to achieve that position after acquiring the necessary tools and experience required to manage a large-scale global business by completing my MBA, starting as a Product Manager, and working my way up.
I find the information security industry exciting; it is ever-growing, ever-changing, and provides a huge technological challenge in adapting to new technologies and attacks. Data security was a crucial element to business managers worldwide deciding to connect their intra-nets to the Internet. This made the transformation to a global-commercial network possible. I am proud to take part in maintaining the Internet's revolutionary role by making individuals who use it feel secure. I hope to harness my motivation, technological ingenuity, and managerial skills in developing the industry.
My fascination with business, direct interaction with clients, strategic overview, and the view of a company as a provider of products that meet customer needs has motivated me to move from technical roles to business positions. Both my current position as Group Manager in the military and my desired post-MBA position as Product Manager require team management. While today I use intuition and experience to guide my activity, I plan to strengthen my skills by learning formal methodologies at Tuck and benefiting from the personal experiences of classmates and faculty. I feel that such knowledge will help me do my job effectively and achieve my long-term objectives.
In future positions, I will be faced daily with situations that require interpersonal skills: interviewing a job applicant, rewarding an employee, providing constructive criticism, etc. While there is sometimes a suggested textbook solution to these situations, great skill is required to adapt the general solution to the particular case. I look forward to improving my "soft skills" by taking classes like "Leading Organization" or "Organizational Culture and Culture Change". Here, I can refine my skills with "hands-on" experience in a forgiving environment.
Product management and my subsequent positions also require close interaction with departments such as finance, marketing, sales, and R&D. I will need to understand the activities of these departments, best practices for interacting with them, and how to take them into account in decision-making. Tuck's Global General Management approach towards teaching business, providing the "CEO perspective", will allow me to obtain knowledge on this.
I learned that an important part of being a manager is developing vision, knowing not only what your business unit is doing next month but also what you think it should do three years from now. The job requires developing a road-map and setting milestones that will lead to long-term objectives while keeping short-term goals in mind. Knowledge gained through courses like "Global Strategy and Implementation" and "Top Management Teams" will allow me to take these considerations into account, balancing them with reality.
I feel that Tuck is the place to receive my MBA education. The close community, the unique geographical location, and the strong emphasis the MBA program has on team players and teamwork create a special atmosphere. I feel most comfortable learning and exchanging ideas in this type of environment. Its informality allows me to easily open up and express my opinion or risk making a mistake. This special trait reflects also in the Tuck alumni community. Talking to Tuck students and Alumni, I was impressed with their willingness to go to great lengths to assist each other.
Aiming to get back to the Information Security industry I am thrilled with Tuck's opportunities to expand my education in a technologically-oriented environment through programs like the Tuck Global Consultancy or the Glassmeyer/McNamee Center for Digital Strategies. I plan to take advantage of the fact that Tuck is part of Dartmouth University. The opportunity to enrich my education through classes in Physics, Psychology, or History is something I look forward to as I feel this would allow me to develop a multi-disciplinary creative approach that will provide me with a better framework to achieve my goals.
''Our risk team has turned down my customer's lending application again." Hardly a week went by when I wouldn't receive an email like this from our frontlines at the financial services company I worked for in Hong Kong.  As a project manager, overseeing credit lending operations, I noticed that often small-scale, digital businesses were turned down by the bank. Based on the latest KPMG report, Hong Kong, despite being the leading global financial hub, ranks outside the top 10 in "innovation hubs and leading visionaries".
Post-MBA, in the short term; I want to work in product management in a fintech firm focused on lending such as Lending Club or Alibaba to understand how to solve financial problems using technology. In my view, by applying the right technology-enabled solutions, I believe I can refine the traditional lending model and supply chain operations to support Hong Kong's entrepreneurs. Although I have a wealth of experience in credit lending and project management, I wish to grow my experiences in digital product management and collaboration skills to lead a business transformation. In such a role, I'll gain hands-on experience building and executing a fintech product roadmap as well as learn how to earn buy-in and align stakeholders' interests without direct authority, thereby positioning me well for my future long-term goal.
In the long term, I envision leading a digital strategy team in an international bank to push business transformation in the existing Hong Kong banking model. Tuck's well-rounded MBA program will play a critical role in providing me with a breadth of new perspectives and practical knowledge to build and scale digital products. The peer-to-peer learning philosophy Tuck upholds is unique and it's something I am fond of.  I hold a strong belief that constructive feedback and constant learning from peers are necessary to refine a brilliant business idea.  Because of Tuck's small size and personalized location, it offers many community-oriented events such as the "TuckBuilds program" and "Voluntourism" where I can constantly refine my business ideas while working with people from different backgrounds.  I will also benefit from the close proximity to hiking treks and camping sites where I can have frequent off-sites, getting out from my routine tasks to refresh my business thinking.
I also look forward to taking advantage of experiential learning opportunities such as the FYP, where I'd get to work in a team setting and solve real-life business problems for fintech start-ups such as Payjoy.  I'm excited about utilizing the Tuck Tech club platform to discuss and refine my product ideas and brainstorm business models. The Centre for Digital Strategies, a unique offering at Tuck, is also a place I see myself going to visit a lot.  Aside from the mentorships, field trips, and Tech Drop-in, I am excited about the electives such as "Strategic Change in Turbulent Digital Environment" where I can learn how to navigate a complicated environment in a global bank and grow my ideas into new business lines.
Combining my experience from my previous employer, skills, and knowledge gained from Tuck and the product management experience gained at a fintech firm, I will be well-positioned to achieve my long-term vision of transforming business lending in the Hong Kong banking sector and contribute to its growth story in the digital economy.
Growing up, every morning I woke to the crowing of roosters and the aroma of freshly-baked pandesal peddled on the streets. I lived in a town of 50,000 in the Philippine south, which had been my family's home for several generations. My grandparents were at the center of the community: they devoted their time and savings to establish the town's first bank, the Rural Bank of my town. The bank has grown from $20,000 to $1 million of capital but is beginning to struggle due to lack of oversight, outdated lending policies, and operational and managerial inefficiencies.
In the long term, my goal is to return to the Philippines to continue my grandparents' legacy. In the short term, I first need to deepen my knowledge of business fundamentals and work in banking so that I can effectively grow this bank into a formidable player in the Philippine and Southeast Asian financial industry.
As a next step, a Dartmouth MBA will help me build my knowledge of leadership, marketing, finance, and operations, and also create a strong network on which I can rely in the future. When I visited campus, I saw that the Tuck community is incredibly close-knit and inclusive. As a student, I am excited to participate in Tuck's Small Group Dinners, where I can get to know students and faculty in a casual, familial atmosphere. I want to take "Decision Science" and "Competitive and Corporate Strategy," where I will learn to identify industry trends and employ analytics for decision-making. I would also love to join the Tuck Social Venture Fund to understand the key social metrics and approaches that will positively affect the communities where I work.
In my second year, I would like to design an Independent Study focused on innovation in emerging markets with faculty like Vijay Govindarajan. Additionally, it would be fun to start a Southeast Asian club, where all students can connect over a shared interest in the region's culture, food, and customs.
After graduating, I plan to join an investment bank's financial industry coverage team. In this role, I will learn how to advise financial institutions on growth and acquisition strategies. Once I hone my analytical expertise, I hope to lead a team within the bank and further develop my ability to manage and motivate others.
In the long term, I am excited to apply my knowledge of finance, leadership, and operations to the challenge of transforming this bank into the best bank for lower-income consumers in the Philippines and Southeast Asia. I want to take a path similar to that of Carlos Pastor, a member of the Dartmouth Board of Trustees who grew Peru's smallest bank into the most profitable financial institution in his country today. I believe that as Southeast Asia's economy grows and as financial literacy increases, people's need for small business financing and personal financial services will increase exponentially. When this time comes, I plan to be ready with an established infrastructure and model to serve the region. I can't wait.